News
Year 3 are transported back to the Stone Age
Posted on 20/10/2020
As it was not possible to visit Celtic Harmony as planned this term, our Year 3 students embraced technology and found a new way to experience the prehistory centre and museum with our first immersive virtual school trip.
Here's what Year 3 discovered during the 90-minute session…
With our costumed guide on-screen, we were transported back to the Stone Age with a virtual glimpse of life as a hunter gatherer.
We explored the Palaeolithic caves to see how paints were made and found that cave painting was a way for Stone Age people to communicate about their lives and hunting achievements.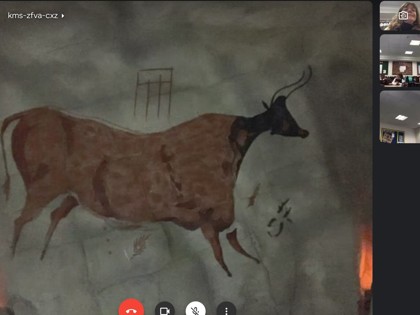 We next discovered how Neolithic Hunter Gathers made tools in their dwellings and watched how they used flint to create their tools – a technique called flint knapping. It was fascinating to find out how different weapons were used for different kinds of hunting.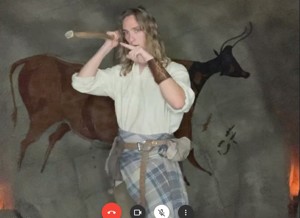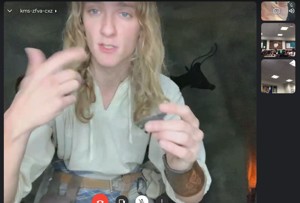 Our guide then showed us how they hunted wild animals and used every part of it from the skin to the bones. We learnt that hunter gatherers would gather berries and seeds in the forest and cook with prehistoric herbs sometimes crushing them and adding to soups, which they heated with water over hot stones.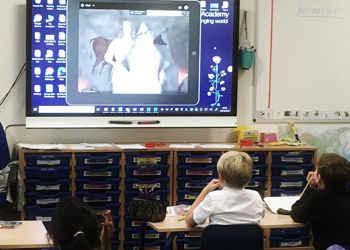 We had great fun during our interactive learning and we were asked many questions to show our understanding throughout. At the end of our session we took part in a live discussion and had the opportunity to ask our own questions.
After our session, we were inspired to create our own cave paintings with Mrs Wilkinson in the secondary art department.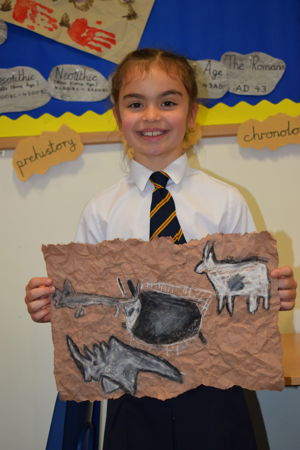 Here are some of our amazing cave painting creations!