News
Matt Gauthier, SRA Headteacher scoops prestigious award
Posted on 16/09/2020
Scholars' Education Trust are thrilled that Matt Gauthier, Headteacher of Samuel Ryder Academy has been announced as a prestigious Silver Winner in this year's Pearson National Teaching Awards for Headteacher of the Year in a Secondary School award category.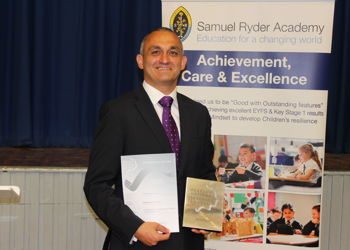 Due to government guidelines, Matt was presented his award from Claire Robins OBE, CEO of Scholars Education Trust in a small ceremony, in front of the Year 8 students, who were the first primary students to attend Samuel Ryder Academy when it was converted to an all through school, and colleagues. The award's ceremony was also joined, via video link, by Sharon Hague senior vice-president of Pearson. The event was live streamed to every classroom and office in the school so the entire SRA community could share in the celebration.
The Pearson National Teaching Awards are an annual celebration of exceptional teachers, recognising the life-changing impact an inspirational teacher can have on the lives of the young people they teach.
Samuel Ryder Academy is a school at the heart of its community and at the heart of Samuel Ryder Academy is Headteacher, Matt Gauthier, "We are privileged as adults that the greatest gift we can give to our young people is a first class education to provide them with the "Education for a changing world" – to be the leaders of the future in our globally diverse and competitive world."
Claire Robins O.B.E. commended Matt on his accolade "Matt is an inspirational leader, solely focussed on providing the very best possible experience for the students of Samuel Ryder Academy. It has been a privilege to see the transformation since he became head – Samuel Ryder has become a school at the very heart of its community, providing a breadth of opportunities for its young people that any school would be proud of. As head of Hertfordshire's first all-through academy, Matt's clear vision for the future, and his refusal to settle for anything less than the absolute best, ensure that the Samuel Ryder Academy continues to go from strength to strength."
Sharon Hague, Pearson senior vice-president "So a huge congratulations from me to Matt, what a deserving winner he is, the Pearson teaching Awards judges described him as 'a leader who dares to be different', and I think that says it all. His colleagues said 'Matt is an inspirational leader in every sense and deserves the wide recognition that this award would represent – although he'd kill us for saying it' well I think it's too late for that now! After 7 years as Head, Matt has created a school which is now achieving academically, oversubscribed, full of engaged students and staff, and developing not just a local but an international reputation for excellence. Parents have described him as "very approachable". Students describe him as "friendly, innovative, and amazing, with a great sense of humour." Staff cite their wellbeing as a key facet of his leadership What more could you ask for - all of this is so wonderful to hear and is exactly why Pearson supports these awards - so that teachers across the country like Matt can be recognised for their excellent contribution to education."
Silver Winners previously have been invited to a celebratory Tea at the House of Commons. In these extraordinary time, Pearson National Teaching Awards are looking at alternative options. We wish Matt every success at the National Finals where the gold winner will be announced.