Parent Information
Code of conduct
Student Code of Conduct
We want Samuel Ryder Academy to be a happy and peaceful community in which to learn. Our Code of Conduct is designed to help students understand what we mean by this. It is not an exhaustive list of aspirations and things to avoid; instead it outlines key points so students have clear examples of what we expect from them.
Students have the right to:
learn without disruption
be free from bullying of any kind
feel safe
enjoy equal opportunities
exist within the school without fear of prejudice of any kind from any member of the community.
The school community will not tolerate:
bullying of any kind
any type of violence
vandalism, graffiti, or litter
cruel or insensitive behaviour
possession of or dealing in drugs or alcohol
smoking cigarettes
misuse of solvents
any signs of disrespect from any member of the community
arriving late to school or to lessons
leaving the school without permission or missing lessons.
In our school we will try to:
respect ourselves
respect each other
do our best
act with honesty and responsibility
show ourselves in the best light
be polite and courteous
enjoy learning
participate in all aspects of school life.
We publish our Student Code of Conduct on our website and in students' planners and refer to it in our rewards and behaviour management systems.
Uniform
A very high standard of uniform is expected at all times throughout the school day and on the way to and from school.
School Lunches
Parental Permissions
Please click here for Samuel Ryder Academy's Parental Permissions document which details the various permissions that are important for parents and students to understand.
Parental communication
Parent Pay
ParentPay is the web payment service that lets parents pay online by credit and debit card or in cash at PayPoint stores to schools and school suppliers.
EduLink One
Samuel Ryder Academy uses a portal called EduLink One which provides a convenient and accessible solution for the school to communicate with parents on all aspects of school life and also allows parents to access all information about their child in one place.
Technical Assistance
If you are having any issues regarding Parent Pay, EduLink One or Sims Login, please use the following email contacts for assistance:
Parent Pay Log in requests:
Finance@scholarseducationtrust.co.uk
EduLink One and Sims Log in Technical Assistance:
technicalassistance@samuelryderacademy.co.uk
Parents' Evening
There is one parents' evening each year which gives you an opportunity to discuss your child's progress with their teachers. Appointments will be released and booked using EduLink One. You will receive further communication prior to the evening on how to make a booking.
Joining instructions using Microsoft Teams for virtual appointments
Please find below instructions for joining a Microsoft Teams meeting on a mobile device and PC.
Joining Microsoft Teams on a mobile device
Joining Microsoft Teams on a PC
Parent and Staff Communication
Please click here to see our protocols for contact between parents and staff.
EduLink One
Samuel Ryder Academy uses a portal called EduLink One which provides a convenient and accessible solution for the school to communicate with parents on all aspects of school life and also allows parents to access all information about their child in one place.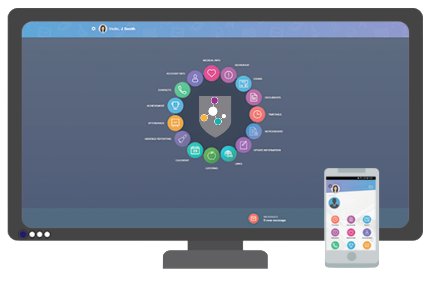 What Can EduLink One Do?
Some of the EduLink One features which parents may find useful are listed below:
Absence Reporting - Parents can easily report their child absent from school due to illness. They will also be notified via email if their child is absent from school.
Account Info - This screen will allow parents to see general information that we hold about their child.
Achievement - Will show parents any achievements awarded to their child.
Attendance - Parents will be able to view statutory attendance statistics for their child.
Behaviour - This will give parents access to the behaviour records for their child.
Calendar - This will be populated with upcoming events, parents' evening dates and school holidays. If a dot is showing under a date, it means there are one or more events happening that day. Click the date to find out more information.
Catering – This screen links to ParentPay accounts, it will let parents know what their child has chosen to eat and the balance on their account.
Contacts - This screen will show parents the contact information we hold on file for them.
Documents – In this section parents can find the annual school report for their child.
Exams - This will give parents information about any exams their child may be taking. An exam timetable as well as exam entries are displayed.
Forms – On occasion we will ask parents to complete reply slips through EduLink One, these are found in the forms section.
Homework - The homework screen allows parents to see all of the homework that has been set for their child. The screen also allows parents to swipe through to see homework that has been completed.
Messaging - We now communicate with parents via email and push notifications to the app. Parents will receive instant paperless communications into the EduLink One communicator tool as well as to their email inbox. Parents can also use EduLink One to contact their child's teachers.
Timetable - This gives parents a view of their child's current timetable and will be kept up to date with any changes of teachers, groups or rooms as they happen.
Update Information – Parents can access and edit their contact details and their child's information and consents, keeping the school up to date with any changes. (Note: This data can be accessed by any parent with Parental Responsibility and an EduLink One log-in).
FAQs
How do I get a log-in for EduLink One?
Parents will have received their username via email from Samuel Ryder Academy.
If you have not received an email (please ensure your email address is up-to-date with the Academy Main Office) or would like to access EduLink One, please contact us at SRA Technical Assistance.
Is EduLink One secure?
All data within the EduLink One software is encrypted and secured using the most up-to-date TLS 1.2 secure encryption technology.
How can I access EduLink One?
EduLink One is a school information platform that can be accessed on any device – PC, laptop, tablet or mobile device – via the web browser or via the EduLink One app.
Once you have received your log in details, you can access the system by entering the school ID which is 'sra' as well as your username and password.
Links to EduLink One can be found as follows:
EduLink One is available from Google Play, Amazon App Store and the Apple App Store. Click on the icons below to access the relevant store.
| | |
| --- | --- |
| | Requires iOS 8.0 or later. Compatible with iPhone, iPad and iPod touch |
| | Requires Android 4.4 or later |
| | Requires Android 4.4 or later |
Social Media
Follow us on social media to see all our news and events as they happen!
Facebook
Click here to follow us on Facebook
Twitter
Main account: @SRA_StAlbans
Sports Academy Twitter Accounts
Helping your child
As a parent you can make an enormous difference to your child's chances of success in school, at home and in their later life. Working in partnership with your child's school can help them to succeed.
We see the relationship between home and school as being extremely important in determining how successful a student is. It is important that there is a shared philosophy and both parties are clear about what they can expect from each other.
A good partnership also involves transparency, honesty and clear channels of communication so that you are fully informed about your child's learning and development.
There are a number of ways in which parents can become even more involved in their child's education at Samuel Ryder Academy. Some of the formal opportunities are listed below but parents are encouraged to contact staff at the Academy at other times if they have any concerns or queries.